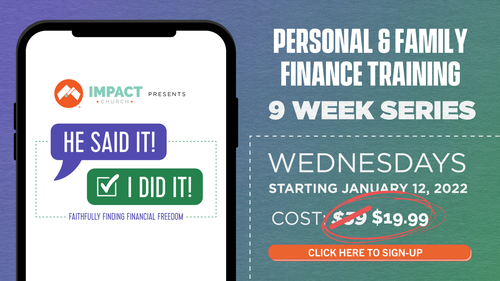 He Said It I Did It is a personal and family finance training designed to teach the principles, promise and practices of Biblical stewardship and generosity. Participants learn how to do the following:
Eliminate toxic debt
Plan and give according to faith guided by scripture
Cast vision for preferred future
Assess current state of personal finances
Develop strategies to enhance income and reduce expenses
Save and invest for value/wealth creation
A Letter from the Teacher
Everyone wants financial freedom, but few actually achieve it. After years of struggle and laboring under the bondage of debt, I have come to know the true meaning of freedom. Being financially free is not being able to buy anything your heart desires or to shop until you drop. It is having sufficient resources to support your lifestyle and those those causes that give your life purpose. Financial freedom means not depending on a job to provide your living. In other words, when you are financially free, you work for a life, not for a living. That is the lifestyle God has blessed us to enjoy, and it is the lifestyle we wish for you.
There are many personal financial management courses on the market, but you chose to attend this one. I believe your time and effort in this course is a sound investment that will bring a lasting and abundant return now and for generations to come. As you begin this course, you are taking the first step to building a legacy of stewardship and a life of godliness for your children and their children.
God bless you as you seek to master your personal finances according to the principles of our Heavenly Father.
-Charles W. Buffington, Jr.